We're happy to announce SONICA festival's collaboration with SAJETA festival, presenting two SHAPE Platform artists:
Riccardo la Foresta and Lukas Koenig.
RICCARDO LA FORESTA (ITA)
Thursday, 8 July at 18:00
Tolmin Public Library "Ciril Kosmač"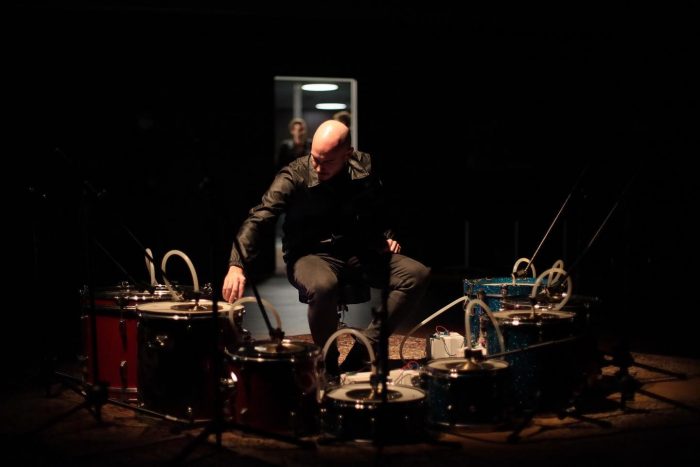 Riccardo La Foresta is a percussionist and sound artist from Modena (Italy) whose research of the last years wants to question the role of the drum as a percussive instrument. Resonances and vibrations generated treating the drum as an aerophone, create acoustic drones, ancestral melodies and complex beats that drastically distance the instrument from traditional drumming. The ongoing process of his research is focused on the development of a system called Drummophone.
In the past years Riccardo's been intensely touring Europe and working in between the fields of experimental music, free jazz and sound art, collaborating with musicians such as Fis, Anthony Pateras, Chris Corsano, Axel Dörner, Lê Quan Ninh, John Butcher, Michel Doneda, Massimo Pupillo, Toma Gouband, Stefano Pilia, Ingar Zach, Mike Majkowski and Lucio Capece among others.
Since 2013 La Foresta has been active as a curator of experimental music concerts in the area of Modena, mainly with his organization Bæd and since 2017 with NODE festival.
https://www.riccardolaforesta.com/
KOENIG – SOLO – MESSING
Saturday, 10 July at 18:00, Sotočje/Confluence
Lukas Koenig – cymbal, synths and voice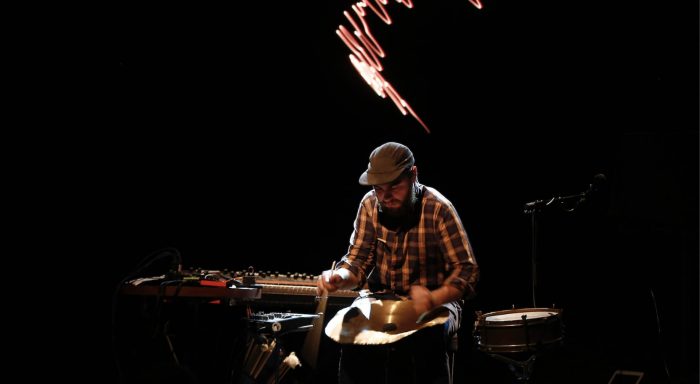 Lukas Koenig is an Austrian drummer, percussionist and composer, born in 1988 in St. Pölten. He currently lives and works in Vienna. He attended the Gustav Mahler conservatory of music, the Anton-Bruckner Univerz and the LinzSwiss Jazz School. Even as a young artist he was often commended end received numerous awards.
He has collaborated with Klangforum Wien, Audrey Chen, Julien Desprez, Sensational, Elvin Brandhi, Peter. Kutin, Chris Pitsiokos, Jamaaladeen Tacuma, Briggan Krauss, Shahzad Isamaily, Jorge Sánchez-Chiong, Elliott Sharp, Wolfgang Muthspiel, Franz Hautzinger, David Murray, Reggie Washington, Malcolm Braff, Steven Bernstein, Kazuhisa Uchihashi, Koenigleopold, Kompost3, Bilderbuch, Ensemble für Neue Musik Zürich and many more.
»MESSING« (2020,released at Ventil Records) by Lukas Kœnig is a courageous statement that rejects straightforward pop and instead shines with artistic freedom and the will for change. The metal, the brass, always reverberates, at times mercilessly pounding on us, driving us forward, resonating. An artistically valuable and independent work by one of the most remarkable drummers of these times.
»MESSING« is the German noun for brass, a metal that is a component of percussion cymbals. Messing/brass is the cheapest metal alloy for cymbals. Therefore it is easily deformable and bendable.
»MESSING« as an English verb which describes a chaotic handling.
Not chaotic at all is Lukas König's impressive sound study presented here. The internationally acclaimed drummer concentrated only on a single cymbal (brass plate) as a sound source, messed around with it and therefore discovered new possibilities for sound developments. According to Kœnig, this reduction in means can be attributed to the loss of his rehearsal room and additionally to an acute lack of space, which is also connected to his constant commuting between New York and Vienna. The warehouse was converted into a quiet rehearsal room, where he explored his dexterity on the cymbal and its tonal characteristics using contact microphones and headphones, and perfected his technique to this end. And this reduction of means bore fruit.
We would like to thank SAJETA music festival for our ongoing collaboration in presenting excellent musicians!
www.sajeta.org
The events were made possible with the support of SHAPE Platform, co-financed by Creative Europe.